NOW Jane  OFFERS EXPERTISE IN PLACING / PURCHASING – YOUR ART IN YOUR HOME. she, NOT ONLY OFFERS HER own Paintings and Sculpture/Ceramics,   BUT HAS NATIONWIDE CONTACTS AND FRIENDS IN THE Mid-Century FURNITURE WORLD INCLUDING - MR BIGGLESWORTHY , -CUCHI, -SARSFIELDBROOKE, -JARDEN -DESIGNER RUGS NZ, - Auckland, -FRONTAL LOBE where Jane has designed a dining table and settle AND -MR MOD IN CHRISTCHURCH – VISIT  'INTERIORS' AND NOTE THE ECLECTIC AND INTERNATIONAL STYLE JANE HAS made her own.
WINE COUNTRY GALLERY is operative again connecting Artists and Auction Houses as well as respected Dealer Galleries directly with Clients.  Jane will suggest and obtain art works for Investment Collections starting out or well established.  This is a discrete service where all my years in and around the art world can be helpful to people both clients and artists.
Jane has been painting professionally since 1983. During this time she furthered her art education at The Slade University, London, where one of her tutors was the renowned Sir Terry Frost.  It was here she really understood just how difficult it is to paint in the abstracted form, which she stills per-sues today both on canvas and ceramic forms.
1992 saw Jane teaching all art classes at Hereworth School, Havelock North for the next 8 years, and also took private lessons for children and adults from her home.  This was followed up by opening Wine Country Gallery in Havelock North, known for supporting up and coming artists the gallery gained an enviable reputation.
Jane finds living in Hawkes Bay and Matakana ideal for her subject matter and the quality of light and life there, is reflected in the vibrancy of her work.  Her paintings are recognized as often being large scale using linear fluency with veils of introspective meaning.  Several Galleries  represent Jane Gray, including Tennyson Gallery, Napier,  Art Matakana, Matakana, International Art Centre, Parnell, and Flagstaff Gallery in Devonport.  Some of  her recent series of paintings  are available in Print form directly through this website., go to Prints.
Contact Jane to make an appointment,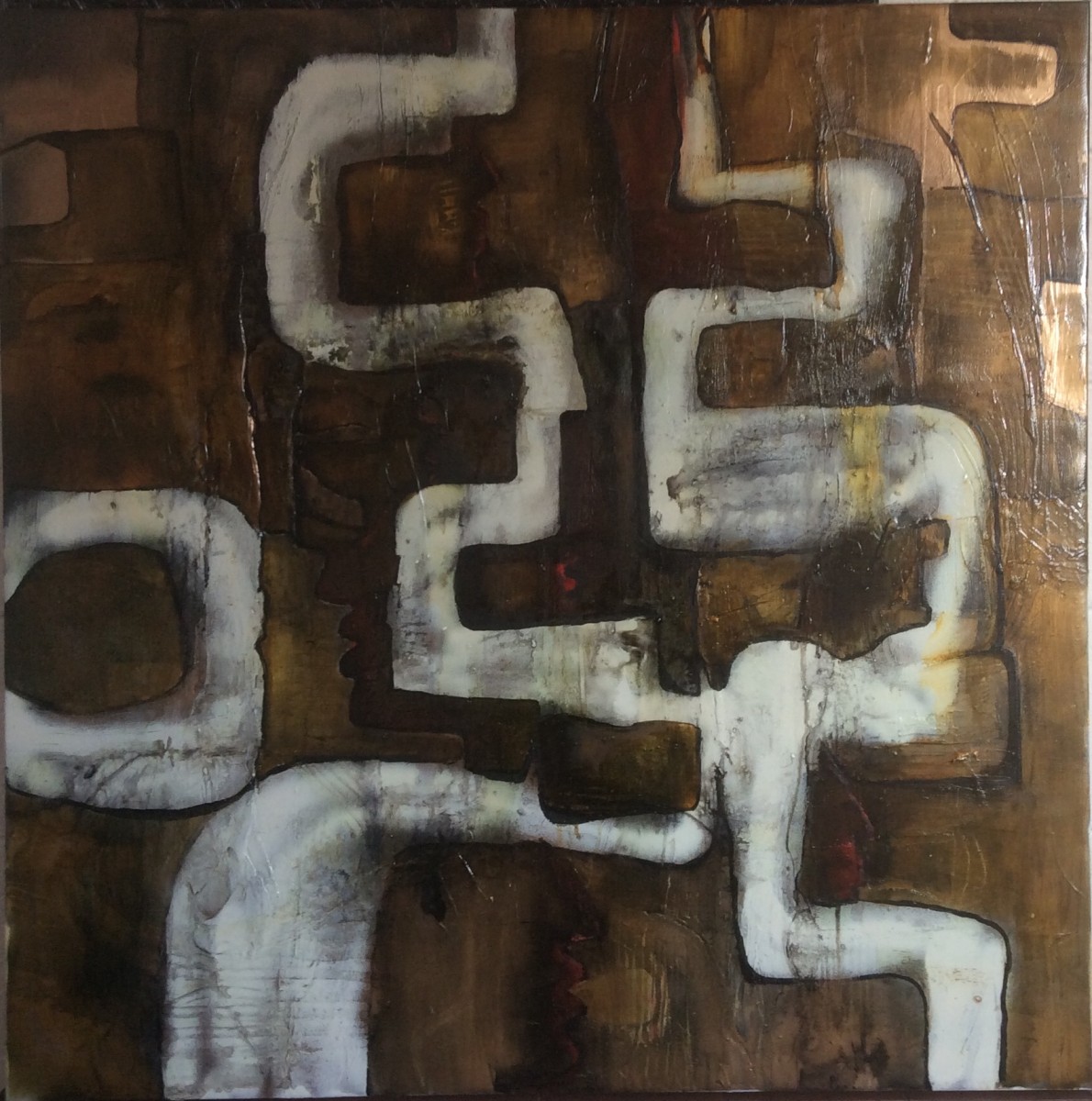 2022-  Once again invited to exhibit in Florence Biennale 2023, Jane has decided not to travel this year to Europe but is waiting to see if the painting 'Conversation Gagged' gets into The London Art Fair.
2021-  A difficult Covid year for art Jane was invited to show at ART in The PARK a 4 day event at Eden Park, Auckland which was a sell out.
2020 – Selected for the Hastings City Gallery 'Lock Down' exhibition, this exhibition has now Sold out after going on tour around NZ.
2020 – The last 2 years have been spent creating 'Perfect    Imperfection',  ceramics Forms, as well as completing commissioned paintings.
2017- The first of the new lightboxes selected by Carol Shepherd for the HB                    Invitational at the CAN.
2016 ~ Exhibiting new body of work 'Feather in My Cap Series 1' at The         International Art Gallery, Parnell
2015 ~ Developed a series of works on PVC Canvas, exhibited and sold from DOMO in Parnell
2014 ~ Invited to exhibit in the Molly Morpeth Awards again.
2014 ~ Selected for the 'East' Exhibition Hastings City Art Gallery
2014 ~ Jane graduates with a Dip.Int.Design
2013 ~ Wellington Art Show and 3 new galleries representing Jane around NZ
2012 ~ Exhibited and sold in the Wellington  Art Show, Queens Wharf
2012 ~ Jan. Selected for the Molly Morpeth Award
2011 ~ August ~ Another large private commission ~ Noosa ~ NSW (this painting can be seen in 'Commissions' under Galleries
2011 ~ Picked up by 'Gallery Beneath' Mooloolibar ~ Queensland
2011 ~ Life Education exhibition Academy Fine Arts Wellington
2011 ~ Large commission for private client ~ 2 metres sq
2011 April-June ~ Creative Hawkes Bay Invitational curated by Helen Kedgley
2010 April ~ Wine Country Gallery Exhibition ~ Parnell ~ 481 Parnell Rd.
2010 Feb. ~ Wine Country Gallery Exhibition ~ Elephant Hill Winery
2009 Oct. ~ Mosaic Wine Box Exhibition ~ Taradale
2009 August 25th ~ Joint Exhibition Toi Tahuna NZ Fine Art Gallery ~ Queenstown
2009 June 26th ~ Invited Artist NZ Academy of Fine Arts ~ Wellington
2009 June ~ Guest Artist Ashburton Society of Arts Ashburton Art Gallery
2008 ~ Finialist in the Adams Portrait Awards Wellington
2007 ~ Painting sent to Florence for the Biennale Dec.10
2006 ~ Invitation to exhibit at the Florence Biennale
Dec. 07 ~ Exhibition at the new King and Teppet Hamilton (Oct.) Mosaic Wine Box Auction.Napier.
2005 ~ Exhibition at Wine Country Gallery ~ Havelock North.
2004 ~ Exhibition at Wine Country Gallery ~ Havelock North ~ and Fishers Akl.
2003 ~ Jane has established a Gallery in Havelock North. "Wine Country Gallery". 2003 Also saw Jane established as resident artist in a chain of restaurants in Massachusetts ~ called The Kiwi Grille ~ with her paintings featuring on the walls as well as the tableware. ~ This is an important opportunity to represent NZ abroad.
March 2002 ~ Painting titled 'There will be talk' selected for the prestigious Norsewear Art Award.
July 2001 ~ Jane attended Summer School at the Slade School of Fine Arts ~ London University.
August 2001 ~ Jane rented a studio in Umbria and produced enough work for an exhibition in London.
September 2001 a very successful exhibition New Zealand House ~ Haymarket ~ London UK.
June 2000 Jason Products commissioned Jane to produce a design for their tableware ~ this was produced in 2001.
1999 and 2000 saw a Jane Gray painting on the cover of a brand new publication advertising Hawkes Bay ~ this has been endorsed and well received by all that advertise in it.
1999 ~ Appointed the resident artist for Sileni Estate Winery ~ Hawkes Bay. Jane is responsible for producing a painting each year for the premium wine label.
1999 ~ Jane was one of 6 only ~ NZ artists asked to exhibit in the Americas Cup village in Auckland during the Louis Vuiton and Americas Cup Series.
1998 ~ Jane was invited to donate a painting for auction raising funds for the local hospice. The painting titled 'Boulevard' was reproduced in print and labels. The prints have sold out.
Publications
House & Garden Australia Feb. 09 ~ pgs 66,67.
Trends Outdoor Living Vol. 23
Trends Magazine
Art News ~ Summer 07
Florence Biennale Hard Cover 2007
NZ's Favourite Artists Vol. 1 ~ Denis Robinson
Habitat Magazine Dec 07 page 127
Vogue Australia Voguearts Nov 04.
Accent Home & Garden USA July 04
NZ House & Garden pge 148
NZ House & Garden March 2005 ~ cover & page 28
NZ House & Garden March 1996 page 14
Air NZ November 2002 page 52
BMW magazine Summer 2002 Page 30
Recent Exhibitions
2021 – Art in the Park -100 top NZ Artists.
2019-20 ceramics and paintings available at Tennyson Gallery, Napier.2018 Exhibiting Flagstaff Gallery, Devonport2017 exhibiting at Form Gallery, Matakana.
2016 Feather IN my Cap Series 1 International Art Centre Parnell
2015 Solo Show Domo, Parnell Auckland
2014 Molly Morpeth Awards Tauranga
2014 Selected East Exhibition HB City Gallery
2012 Wine Country Gallery Pop up Show, Havelock North
2012 Molly Morpeth Awards Tauranga
2011 Academy Fine Arts Wellington
2011 HB Invitational
2010 WCG Parnell ~ Auckland
2010 WCG at Elephant Hill Winery ~ Te Awanga
2009 Invited Artist Academy of Fine Arts Wellington
2009 Guest Artist ASA ~ Ashburton
2008 Parnell Gallery ~ Akl.
2008 Adams Portrait Awards ~ Wellington
2007 Florence Biennale ~ Italy
2006 Oct. King & Teppett ~ Hamilton
2005 Fishers Fine Arts Akl.
2004 June Sileni Estate Hastings.
2004 Feb Fishers Fine Arts Chch.
2003 May Fishers Fine Arts Akl.
2002 March Norsewear Art Award HB Exhibition Centre HASTINGS
2002 Feb Mills Reef Winery TAURANGA
2001 Sept New Zealand House ~ Haymarket LONDON
2001 June Statements Gallery ~ Napier
2001 Feb Mills Reef TAURANGA
2000 Oct. Wellington Home show Westpactrust Stadium WELLINGTON
2000 June National Art Exhibition Napier Municipal Theatre ~ NAPIER
2000 Feb Sileni Estate Maraekakaho Rd. HASTINGS
2000 March Art by Design Expo Centre ~ Greenlane AUCKLAND
1999 May Artex Expo Centre ~ AUCKLAND
1999 Aug King & Teppett Gallery PALMERSTON NORTH
1999 Nov Shelly BMW WELLINGTON
1998 May Artex Expo Centre ~ AUCKLAND