NEW PRODUCTS #1 TANIKO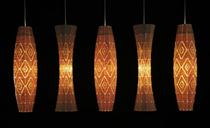 The new Taniko lights were also launched in Milan this year. They are made from thin bamboo plywood, and the incised patterns are derived from the traditional taniko patterns of Maori weaving. The opposite shapes of the two lights are designed to nest perfectly on the ply sheet so that there is no waste and CNC cutting time is halved. They are designed to be simply assembled with nylon cable ties, requiring no tools. This means we can reduce freight costs (to us and the environment) by sending them to our growing network of assemblers in our markets around the world.
NEW PRODUCTS #2 PETAL
Petal is a plastic variation of the very popular Coral light shade. It is sold as a kitset in the same recycled pillow-packs as Iti. The material is polypropylene which can be fully recycled. All our waste is separated and returned for recycling. At 450 mm diameter it is smaller than the Coral and Floral, so it is ideal for smaller houses and apartments. We recommend an energy saving CFL bulb.
NEW PRODUCTS #3 CORAL CABINET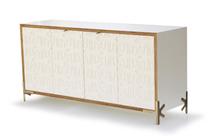 One of our concerns has always been what to do with the waste base boards we use on the CNC machine, when cutting the parts for Coral and other lights. This cabinet is an answer, where the patterns of the Coral pieces are an attractive feature on the doors and back panel (making it suitable for use as a room divider). There are two sizes — the larger one is shown here with two pairs of bifolding doors. The carcase is made from hoop pine plywood with the wood edge left natural. The feet are made from stainless steel cut-outs of the same Coral shape, and allow the cabinets to be stacked. One of our retailers claimed that this is the best designed piece of New Zealand furniture they have seen.